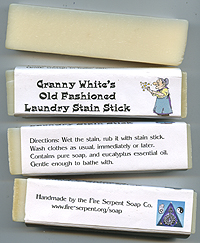 One of my Priestesses was born Mennonite, and told me about these wonderful laundry stain remover soap sticks the Mennonite ladies made to donate to the MCC charity stores. The sticks were a wonder, amazing in that they would remove everything from grass stains and ring around the collar, to printers ink. Just wet the stain and rub the soap stick on it, then wash it immediately or let it sit till washday. The soap was gentle enough to bathe with, but tough on stains!

The A few dozen of the Mennonite church ladies would get together every few weeks in one lady's basement, which had been outfitted with several stoves and they would make washtubs full of the stuff.

I stopped in an MCC store while shopping for a pressure cooker for rendering tallow, and mentioned to the woman there that I made soap. She too, told me about how the ladies used to make these stain sticks for the store. She said the ladies had all gotten too old to continue making them, and the new generation did not want to so they did not have them anymore. She had one last, cherished stick left that she kept in the cupboard at home.

When I mentioned this to my Priestess she got very excited, thinking there was an untapped market. I agreed to make a batch if she could get me their recipe.

So, she started looking, asking her Mom to track down the ladies through the grapevine and get the recipe. The search kind of dead ended when we found out the old ladies had all died!

So we tried to make a batch, using a recipe I had found on the web plus what she remembered, that the soap had borax in it. Well, I found out that making soap with borax is pretty tricky, because borax has to be dissolved in boiling water and crystallizes as soon as the temperature drops. The result was really crumbly soap that could not make a stick. I powdered more thoroughly in the food processor, then dissolved it in hot water and added vinegar. I put it in a spray bottle, and it makes a pretty good all purpose house cleaning spray.

My friend continued her research. She finally located somebody who had known the ladies better, and we found out they had not used borax, and they had been using the recipe that is printed on the back of the Gillette Lye bottle!!

I cracked up laughing so hard. The family secret super extra special recipe we had sought for months, was already in my kitchen!! It was not even a very good recipe...too much water and the instructions were odd. They did not specify what type of oil to use... but we were pretty sure the Mennonite ladies had used lard from the farm pigs.

I made my own recipe, pure lard soap with a tiny bit of eucalyptus oil to cut grease and make it smell even fresher. I cooked it in the mold, in the oven overnight and cut it into sticks, 1" x 1" x 4". When it cured, I was mad at myself for cutting it into laundry sticks, because it was such lovely soap! Too nice to be just for laundry! The long cooking time had increased the glycerine content to the point where the soap was translucent like alabaster.

I use one in the laundry, but I also keep one in the bath.