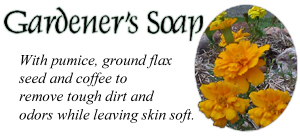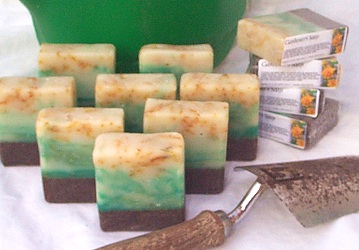 When I set out to make a gardener's soap, it amused me to make the soap look like a garden! I am delighted with how it turned out. Lovely, mild and functional.
The "soil" layer at the bottom contains gentle abrasives to remove tough dirt: pumice powder, coffee grounds and ground flax seeds. Coffee in soap will remove odors. It is scented earthy, with rosemary and sage essential oils.

The middle layer is swirled with two shades of green mineral based colours, to represent the foliage, and the top layer has dried calendula petals for the flowers. The top two layers are scented with floral essential oils.






Contains saponified tallow, coconut oil, olive oil, grapeseed oil, sweet almond oil, beeswax, castor oil, ground flaxseeds, pumice powder, coffee, calendula petals, myrrh gum powder, mineral colours. Scented with essential oils of rosemary, clary sage, ylang ylang, tea rose, honeysuckle, rose geranium, myrtle.