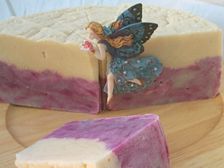 One of my favourite soaps, I love this stuff and I want to keep it all for myself!
I made this from the same batch as a shaving and facial soaps. The "icing" is the same, with kaolin clay in the top. The purple has multicoloured faerie sparkle glitter in it, very pretty but it doesn't show in the photo.





Contains saponified tallow, sunflower oil, olive oil, coconut oil, lard, canola oil, sweet almond oil, beeswax, castor oil, kaolin clay, carrot tissue oil, colour, soap glitter. Fragranced with essential oils of cedar wood, sage, cypress, rosemary, clary sage, eucalyptus, wintergreen.